Now & Zen The Sustainable Landscape Company, has always encouraged sustainability and resourcefulness and work hard to reduce their overall carbon footprint and do their bit to reduce the threat that climate change represents for the region.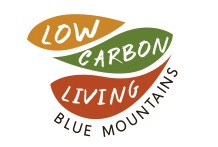 Now & Zen are a member of "Low Carbon Living Blue Mountains" To be part of this program Now & Zen went through the following process:
Audited for their energy, water and waste usage
Advised to how they can become more efficient in using carbon-based resources
Assessed as to what they have done
Had their carbon reduction calculated
Now & Zen have also recently changed energy providers to Australia's greenest power company Powershop who are 100% carbon neutral and offer full support for solar customers.
Shannon Decker also owns a 32- hectare property at Mt Victoria, where concrete is recycled and green waste composted, which provides a solution to expensive transport and tipping costs.
He has constructed an off-the- grid ironstone and iron bark house, and Decker and his family have opened an organic zero waste bulk food store "The Source" in Katoomba.